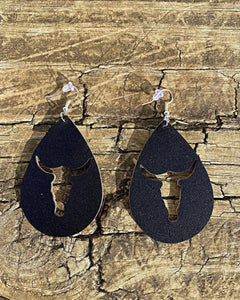 Longhorn Earrings
These longhorn faux leather earrings feature two teardrop pendants with a longhorn cow head cut out of the center. With a shiny black side and a matte gray side, these pendants are sure to make a unique statement piece for a western look.
( Disclaimer: All items are uniquely crafted and created by GenZCreations. Our Items are NOT AUTHENTIC American Indian or Alaska Native American nor do they represent any Indian Tribe)
**Limited Inventory**
Details:
Length: 2 7/16"
Width: 1 3/4"
Metal Color: Silver
The artisan work is handmade, so each piece is unique and may vary slightly from the picture, making each piece one of a kind.