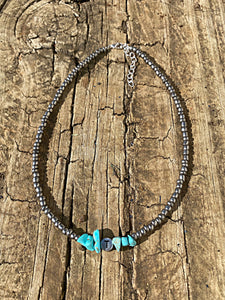 Going Silver Initial Necklace
Design: Metallic/silver beads with a touch of turquoise rock beads. Silver initial bead.
Length: 17 inches w/extender
Want more than one initial? Send us a custom order here.
The artisan work is handmade, so each piece is unique and may vary slightly from the picture, making each piece one of a kind.
( Disclaimer: All items are uniquely crafted and created by GenZCreations. Our Items are NOT AUTHENTIC American Indian or Alaska Native American nor do they represent any Indian Tribe)
.