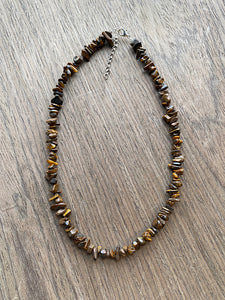 Rocky Road
Rocky Road necklace w/extender 19 inches long. Handmade with tiger eye rock beads to create a beautiful custom design. Limited quality available.
( Disclaimer: All items are uniquely crafted and created by GenZCreations. Our Items are NOT AUTHENTIC American Indian or Alaska Native American nor do they represent any Indian Tribe)
Choose from this design or create your custom order here.

The artisan work is handmade, so each piece is unique and may vary slightly from the picture, making each piece one of a kind.